Vancouver Island Real Estate News from Rudi Widdershoven
May 2015
When clients are coming in from out of town, we want to ensure we optimize their time when they
are in town house hunting. We do our best to get an clear understanding of their Big Picture even before they get here. Make sure you watch the video so we can deliver you the very best!
There are also some tips that'll help you make your lawn look like a golf course as well as a few social media spring cleaning strategies.
Thanks so much for checking out this month's newsletter. Please get in touch if you have any questions or comments regarding the articles, or real estate in general -- it'd be great to hear from you!
Warmest Regards,
Rudi W.
Healthy April Housing Market Boost Spring Sales Activity
Sales in the VIREB coverage area rose once again in April, reflecting a buoyant spring housing
market.
A total of 450 single-family homes sold last month compared to 420 in March 2015, with year-over-year sales up 25 per cent. Inventory levels continue to decline, with active listings down 12 per cent from April 2014.
BCREA Chief Economist Cameron Muir stated that housing sales are up throughout British Columbia, most notably in the southern half of the province. "We're seeing above-average sales throughout British Columbia for the first time in many years," said Muir. "Home buyers are taking advantage of low interest rates and returning to the housing market, which is excellent news for the provincial economy."
VIREB President Jason Finlayson noted that lower inventory levels on Vancouver Island are translating into reduced options for buyers in some markets. Although active listings have not dropped enough to raise prices significantly, supply and demand are shifting, which could begin to place upward pressure on house prices. Vancouver Island is also seeing an influx of buyers from outside British Columbia, attracted by our housing affordability, available amenities, and mild climate.
"The Vancouver Island market continues to be very affordably priced for buyers in comparison to some of the larger urban markets across the country," said Finlayson. "In terms of overall value for your dollar, our market is very attractive and it's an excellent time to buy or sell a home."
Finlayson added that although our overall housing market remains in balanced territory, individual markets do vary, so it is best to consult a local REALTOR® for the most accurate pricing information.
In April 2015, the benchmark price for a single-family home in the VIREB coverage area was $328,500, up 3.41 per cent from 2014. Benchmark pricing tracks the value of a typical home in the reported area. The average price of a single-family home was $362,702 compared to $343,353 in April 2014, an increase of six per cent.
The April 2015 benchmark price of a single-family home in the Campbell River area was $273,100, up just under two per cent from April 2014. In the Comox Valley, the benchmark price was $324,200, up slightly over last year.
Duncan reported a benchmark price of $294,000, an increase of 3.97 per cent over the same month in 2014. Nanaimo's benchmark price rose 3.60 per cent to $347,500 while the Parksville-Qualicum area saw its benchmark price increase by 2.69 per cent to $357,100. The price for a benchmark home in Port Alberni was $188,900, virtually unchanged from this time last year.
MOVING TO PARKSVILLE-Qualicum? Please Watch!
Have you decided to move to the Parksville-Qualicum Beach Area?

We pride ourselves in doing all we can to provide the best for our clients!
A big part of that is understanding Your Big Picture! Please watch the video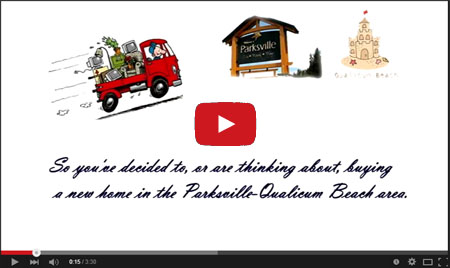 The Grass Could Always Be Greener
Good timing and techniques are key to a great looking lawn!
A thick, healthy lawn greatly improves a home's curb appeal. Properly taking care of your lawn is key to enjoying lush, green grass so read on for some natural lawn care tips:
Zig Zag - Mowing the grass in different directions prevents wear patterns and encourages upright growth.

Stay Sharp - Avoid mowing when it's wet and remember to sharpen the blade several times during the season.

No Short Cuts - Don't cut your lawn too short. Tall grass is more stress tolerant, shades out weeds and has deeper roots to increase the intake of nutrients and water.

Breathe Deeply - Aerating is the natural process of punching small holes into your lawn to loosen the ground which allows water, air and nutrients to easily penetrate the grass roots.

Natural Nutrients - Unless your grass is in really bad shape, it's best to leave your grass clippings on the lawn as they'll provide essential nutrients.
We all want our gardens to look spectacular when we're entertaining or relaxing outside but it's not just all about looks. Caring for your grass also has great environmental benefits as a lawn releases oxygen and captures dirt and dust which helps to keep you and your family healthy!
Spring Clean Your Social Media
It's not just your closets that could do with a good spring clean!
Whether you're on Facebook, Twitter, Google+ or Instagram, it's good to get in the habit of performing regular maintenance on your social media accounts. Here are few tips to consider:
change your passwords and beef up security settings

review your privacy settings and adjust if necessary

back-up your Facebook page in case your account gets hacked

clear the clutter by unfollowing, unliking or unfriending people you're no longer interested in
While you're in clean up mode, go through your smartphone and delete the apps you no longer use. Most apps require access to your personal details so the fewer you have, the more privacy you'll gain.
---
Oh by the way, we are never too busy for any of your introductions. If you know of anyone that may benefit from our help please contact us with their name and number and let them know that we will be in touch. We would be privileged to assist them!

If you would like to keep up on the market and would like automatic email notifications of new listings, sales, etc. Click here or drop us an email or give us a call: 250-468-1498 / 250-248-1071 - team@teamw.ca

For the latest real estate updates, including new listings, price changes and upcoming open houses follow me on Twitter and "LIKE" us on Facebook