Vancouver Island Real Estate News from Rudi Widdershoven

June 2015
Buying a home can be an emotional roller coaster but when you buy your second home, there's twice as much to consider! This month's first article examines the pros and cons of buying first vs. selling first so that you'll be able to make a decision that best suits your circumstances.
There are also some BBQ safety tips as well as a few simple ideas for decorating your outdoor space to help you get into the summer spirit.
Thanks so much for checking out this month's newsletter. Please get in touch if you have any questions or comments regarding the articles, or real estate in general -- it'd be great to hear from you!
Warmest Regards,
Rudi & Trish
May Housing Sales Boost Strongest Spring Since 2007
Buying First vs. Selling First - What Makes Sense?
Safety Tips for Firing Up the Que
The Great, Stylish Outdoors
May Housing Sales Boost Strongest Spring Since 2007
Sales in the VIREB area rose once again in May, contributing to the strongest spring the board has witnessed
since 2007.
In May 2015, 527 single-family homes sold compared to 450 in April 2015, with year-over-year sales up by nine per cent.
Inventory levels have steadily declined over the last 12 months, with active listings down 10 per cent from May 2014.
BCREA Chief Economist Cameron Muir states that after several years of sub-par housing performan
ce, 2015 is shaping up to be a robust year in terms of unit sales. Interest rates continue to support housing demand while lower oil prices hurting other parts of the country have left British Columbia relatively unscathed.
"Housing demand is certainly on an upward trajectory throughout the province, except for northern B.C.," says Muir. "Canadians are out spending in a big way, which demonstrates high consumer confidence." Although the Canadian economy posted a weak first quarter, Muir expects that B.C.'s gross domestic product (GDP) of 2.47 per cent will lead the country.
VIREB President Jason Finlayson confirms that the continued slow-but-steady gains from 2007 point to a housing market that has substantially recovered. Although the summer months are traditionally quieter, activity in our area shows no signs of slowing down.
"Despite healthy sales throughout our area, we've been in balanced market conditions for some time now," says Finlayson. "However, continually decreasing inventory levels and steady price increases could start to push us into seller's territory." Finlayson reiterates that the VIREB area offers tremendous value for buyers in comparison to many larger urban Canadian centres, so it is an excellent time to enter the housing market.
In May 2015, the benchmark price for a single-family home in the VIREB coverage area was $332,600, up approximately five per cent from 2014. Benchmark pricing tracks the value of a typical home in the reported area. The average price of a single-family home was $363,195 compared to $345,895 in May 2014, an increase of five per cent.
The May 2015 benchmark price of a single-family home in the Campbell River area was $278,400, an increase of 6.35 per cent from last year. In the Comox Valley, the benchmark price was $323,800, up slightly over 2014. Duncan reported a benchmark price of $297,300, an increase of 5.42 per cent over the same month in 2014. Nanaimo's benchmark price rose 3.90 per cent to $351,600 while the Parksville-Qualicum area saw its benchmark price rise by 4.10 per cent to $362,000. The price for a benchmark home in Port Alberni was $197,200, an increase of approximately two per cent since May 2014.
MOVING TO PARKSVILLE - QUALICUM BEACH SOON?

We pride ourselves in doing all we can to provide the best for our clients!

A big part of that is understanding Your Big Picture!
Please watch the video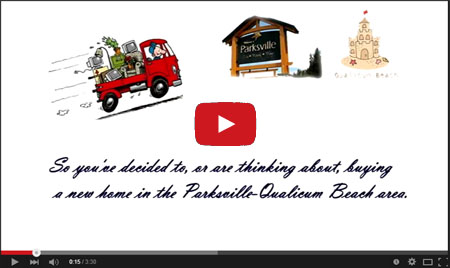 Buying First vs. Selling First - What Makes Sense?
There are pros and cons to both scenarios so it really depends on your situation.
If you're a current homeowner who's thinking about making a move, you'll have to decide whether to sell your existing home first or risk carrying two homes at once.
Selling first means you'll know exactly how much you'll be able to put towards your next home. It also allows you to present a much stronger offer as it won't be conditional on the sale of your current home. Finally, selling first helps eliminate the air of desperation that both buyers and agents can sense.
Once your home sells though, the clock starts ticking. You'll only have a limited amount of time to find the perfect place. You don't want to overpay or settle for something less than ideal so you may have to be somewhat flexible when it comes to moving dates.
If you're looking for a very specific home that only comes up occasionally, you may have to buy first and arrange a longer closing to allow time for your current home to sell. To avoid carrying both homes at once, make sure it's priced competitively from the start in order to generate maximum interest.
Local market conditions are also an important factor so determine whether it's a buyer's or seller's market and if prices are rising or falling. In a buyer's market where there's lots of selection, people usually prefer to sell first so they have a bit of breathing room. In a seller's market where good homes are hard to find and sell quickly, you may want to buy first in order to lock down your dream home.
There's really no right answer when it comes to buying first vs. selling first as it depends on your personal circumstances and local market conditions. Regardless of your situation though, it's important to seek professional advice from a knowledgeable, local real estate agent as market conditions can change rapidly. Please don't hesitate to get in touch if you ever need any advice!
Safety Tips for Firing Up the Que
It's that time of year when the kitchen starts to edge its way outside!
There's nothing quite like the mouth-watering aroma of a backyard BBQ but safety is key. Here are a few tips to keep in mind so that your food sizzles rather than your yard.
Light Up - Always light a gas BBQ with the lid open. If it doesn't ignite right away, turn the valves off and wait a few minutes before retrying.


Pests' Nests - Insect nests are the number one cause of BBQ fires so make sure you regularly clean out the tubes to prevent blockages.


Keep Back - Position the grill at least ten feet from the house, garage, trees or other combustible materials. Keep kids and pets well away at all times.


Roll Up Your Sleeves - Make sure apron strings, scarves and other clothes don't dangle over the grill and always use long handled utensils to avoid burns and splatters.


Turn It Off - Always remember to turn the gas off at both the grill and tank as soon as you've finished cooking.
Now that the safety stuff's out the way, it's time to think food! After your steak dinner, why not tantalize your taste buds and delight guests by serving a mouth-watering melody of grilled fruit. It's a great way to bring out the fruits' natural sweetness and the perfect finale to a summer backyard feast!
The Great, Stylish Outdoors
The trend of extending the indoors outside is as popular as ever!
Extending your indoor space outside will add value, comfort and style to your home. Here are a few inexpensive ways to transform your yard from dull to dazzling:
dress up furniture with bright outdoor pillows

hang outdoor solar string lights on tree branches

accessorize with candles, lanterns and ornaments

add charm with a piece of up-cycled furniture

It's easy to add some style to your garden without spending a fortune -- just use your imagination! Not only will you be able to enjoy the great outdoors but it'll also increase your home's resale value when it comes time to sell.
---
Oh by the way, we are never too busy for any of your introductions. If you know of anyone

that may benefit from our help please contact us with their name and number and let them know that we will be in touch. We would be privileged to assist them!



If you would like to keep up on the market and would like automatic email notifications of new listings, sales, etc. Click here or drop us an email or give us a call: 250-468-1498 / 250-248-1071 - team@teamw.ca

For the latest real estate updates, including new listings, price changes and upcoming open houses "LIKE" us on Facebook